Leading Nordby Companies Into a New Era
December 24, 2019
Celebrating 40 years of business, the Nordby Companies have seen their fair share of success and turmoil. The story of Craig Nordby is a familiar story of a family business with a bright future. He leads a group of Sonoma County's premier construction companies, as Nordby Companies CEO. The Nordby Companies includes Construction Services, Signature Homes and Wine Caves.  He oversees more than $50 million in revenue and 42 employees in the greater North Bay area between the companies.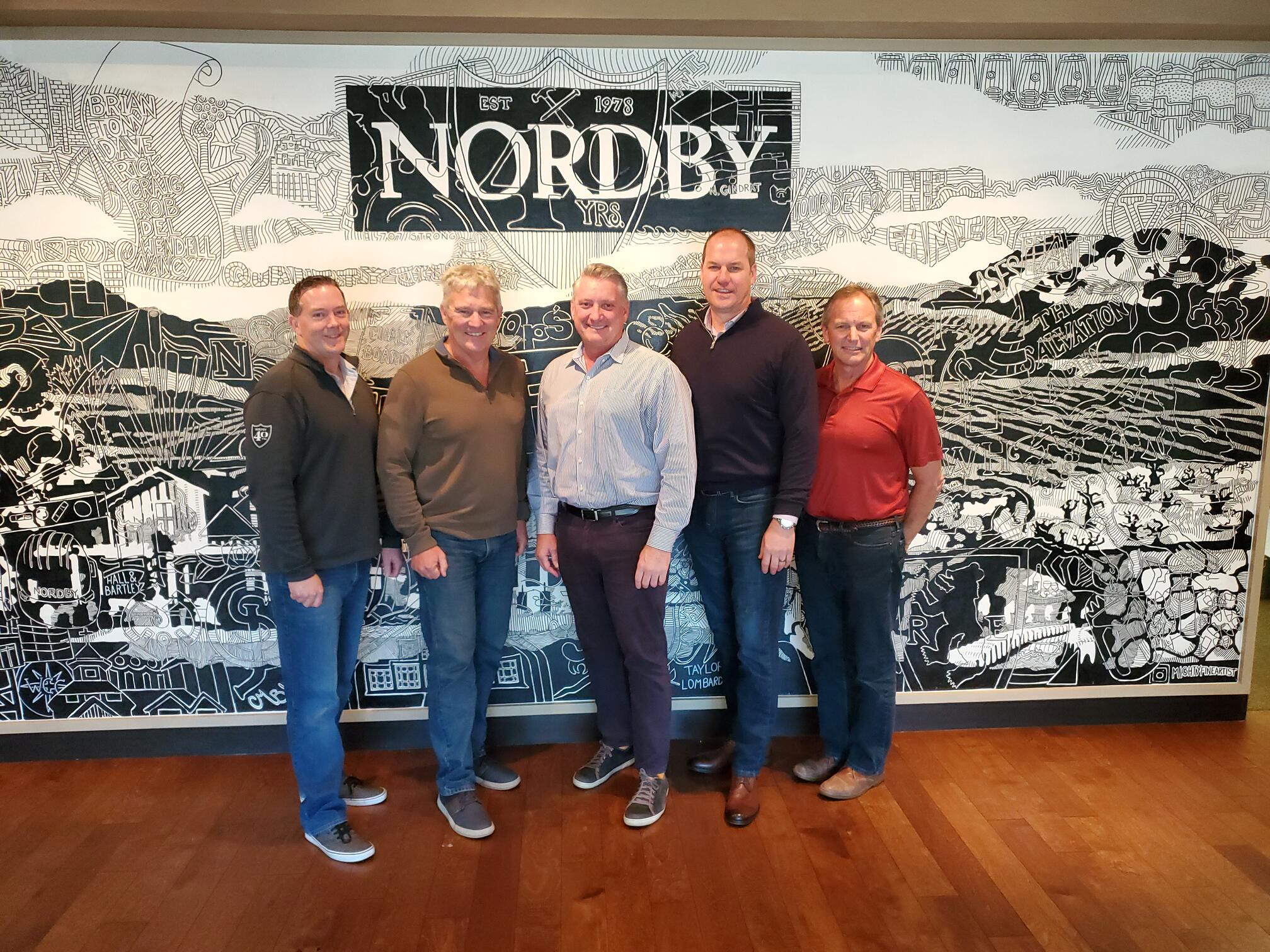 Above is the Nordby team, which includes Tony Simmons, Bob Collins, Craig Nordby, Dave Schroeder, and Rick Shone.
Born in Redwood City and raised on an apple orchard in Sebastopol, Craig Nordby witnessed firsthand the transition of Sonoma County's Wine County. The youngest of three boys, he grew up in a home designed and built by his father, Wendell Nordby. Remembering his idyllic childhood, Craig says, "It was fun to live on a farm; we had goats, sheep, rabbits, chickens and a donkey. We had big gardens that produced fresh vegetables. I recall milking the goats and my mom would make the cheese." In a sense, Craig's childhood can be described as the modern "farm to table."
Craig developed a strong work ethic during his formative years. His day started early, tending to the family farm and then catching the school bus to work on his studies. During summer breaks, while most of his buddies could be found reclining in poolside lounge chairs and goofing off, Craig could be found working as a laborer on a job site. His formative years cultivated a sense of self discipline that would prove invaluable later on in life.
Craig's college education was mostly spent at Sonoma State University, focusing on business courses. During his final year and contemplating next steps, he decided to write his thesis paper on family-owned businesses. He learned roughly 50 percent of family-owned businesses fail in the first year and another 50 percent fail while transitioning from one generation to the next. Deciding whether he wanted to join the family business, Craig knew it would not be easy. Added to the mix, his two older brothers, Del and Rob, worked alongside his father. Upon graduating from Sonoma State University, with a Bachelor of Arts in Management and an emphasis in marketing, Craig ultimately decided to take his dad up on his job offer, saying, "I thought I went into the family business with my eyes wide open."
Early on in his career at Nordby Construction, Craig demonstrated an aptitude in project procurement, networking, and presentations. He identified areas for business improvement, specifically in the area of insurance where he unearthed potential liabilities and gaps. Craig saw the importance of information technology and took steps to managing the company's network and recommended next steps to expand his capabilities. Craig applied his background in marketing, which resulted in double revenues. Craig says that during his foundational career years, "I was able to pick up and focus on the areas where I could be valuable and no one else wanted to do. I believe the more value you can create, the more valuable you are." Together with Craig's contributions, the company continued to flourish, and he found a positive direction.
In 2006, Del and Craig purchased their father's share of the company and they were generating an estimated $64 million in revenue. In 2007, Craig's contributions paid off and he took over the company operations. However, the company was struggling to keep up with its commitments.  Craig anticipated mass company changes would need to happen and then the Great Recession hit. In 2008, the financial crisis provided a perfect storm that would challenge Nordby Construction.
Work was drying up and the company's backlog was depleting. The company needed to make cuts and get lean. To make matters worse, Nordby faced a subcontractor lawsuit, which they would end up losing. It early 2010 news broke out that Del Nordby, CEO, filed personal bankruptcy and decided to leave the company to pursue a new consulting business.  It was at this time Craig took the mantle of CEO.  Facing a critical turning point, Craig went to the company's bank and informed them that they had two options, either wrap it up or believe in me. The bank elected to believe in Craig and the Nordby entities.
In response, Nordby Construction completely downsized. Craig did not take a paycheck for 4 years. Recalling these years, Craig says, "The company had good days and bad days. At some point, the day ahead was better than the day behind. It was never an option to quit; it was important to take responsibility." After a series of severe layoffs, the company was left with a core team including Dave Schroeder, Tony Simmons, Rick Shone, Dennis Caldwell, Bill Baker, Bob Collins, Tyler Deckard, Darrin Rash, and Jim Birmingham. Looking back at that time Craig says, "Everyone took pay cuts – they got it. There's something special about what we have."  The team learned a lot from this experience and, as a result, it has made the team tighter and stronger.  Together, the team set new goals for the future of the Nordby Companies.  One strategy was to build strong leadership which entailed promoting Dave to President and Partner of Signature Homes and Tony Simmons to President and Partner of Nordby Construction Services.  These promotions gave Craig the autonomy to guide and implement the business goals and objectives he envisioned for the companies.
Craig acknowledges he was able to survive these challenging times with the support and encouragement of extraordinary people. He relied heavily on Chuck Peterson, a local architect, saying "he was a great sounding board throughout. He's that guy that was always there."  He's grateful to his wife for taking care of the home front and the family day and night.  He adds, "I think a lot about my partners, Dave, Tony, and Rick." Remembering their past together, he recalls giving a presentation.  He pitched, "Here's what we're going to do. We are going to target clients and do everything for them by creating a concierge system. This will not be a shotgun approach." The team trusted in his leadership, stood by him during the rough times, and the companies are better for it. For Craig, the takeaway from this experience was, "do not grow beyond your means and be the best you can be in your domain."  When he looks back, Craig is proud they were able to make it through these very challenging times.
In 2013, the Nordby Companies purchased their office building. The purchase marked a new era. Craig explains, "We were in a new place that felt good. Banks were interested in us again." Today, the companies continue to prosper, and Craig is on a search for the next chapter. Seeking a greater sense of purpose, Craig enjoys studying the Aji discourse, dedicates his time to outside causes like the Salvation Army, and coaches kids CYO basketball. One thing is for sure, he will make his mark no matter what is on the horizon.